Machupicchu - Peru
This is my first picture that I took when we arrive to Machipicchu. Me, Jason, Rory, Juan Carlos and in my hand I´ve my passport with the picture of my son Giancarlo. Really, When I arrive to

Machupicchu

, I felt very surprised, and amazing to arrive with my friends from Canada and my brother Juan Carlos.
We went walking to Machupicchu, making competence to arrive there, it was very competence very hard. A lot of people prefer to walk because you save US$9.00, but apart of that is very interesting to see all the view of Machupicchu.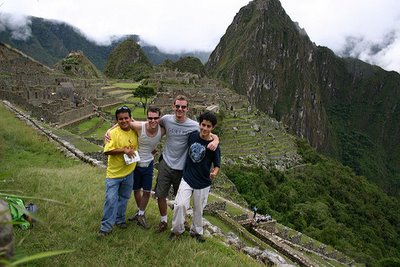 Here is Daniela, a friend that we met in the bus when went to Machupicchu. Well, I ha´ve a lot of picture of them. But I can believe the emotion that was to be in Machupicchu, it was very amazing. I must return, but has to be soon, because the time was very short for us. Every minute that passes was wonderful.
Jason and Rory catched to me and carry up, showing the world
Machupicchu
, we were very happy to be in Machupicchu. Really, Thanks guys, always in my life I´ll be thanked of that adventure we lived in
Machupicchu
.
All the time Jason making jokes.

Rory, me, Daniela and Rory, we are very happy.I hope someday to come here with people to show Machupicchu. This is a unforgotable experience.



This picture is history for www.couchsurfing.com, I suposse the picture will be seen for a lot of people of couchsurfing.


The Canada flag´s de Rory and Jason, it means a lot for me, the same color that Peru flag´s.